Date: May 17, 2017
Time: 9:30 am - 3:30 pm
Location: Babson College, Wellesley Hills MA


SHE DID IT/Boston @ Babson College
Step into your next stage with confidence
Wednesday, May 17, 2017 9:30 to 3:30
I will be hosting a workshop at this fabulous event and plan to present at 1:00. Once registered you will be able to sign up for my workshop directly.        Your Image: Makeover your style & look fabulous at any age
We know that midlife is a time of reflection and action. The auto-pilot of our child-raising years has been deactivated.  We may be newly single, our nests may be emptying, our careers may need a boost.  It takes energy and confidence to set a new course, and we can't do it alone. Women know how important it is to support each other, learn from experts, and take a risk. We will provide a safe community for your next steps.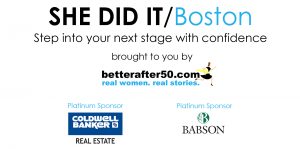 Once you have registered, you will be eligible to sign up for two of the workshops below. You will receive a workshop registration form closer to the event.
You can count on leaving with real life tools to take your next step.
Workshop Themes (click below for more detail):