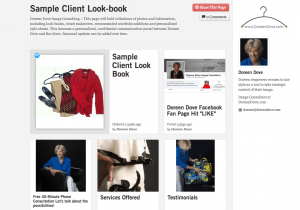 Sample Digital Look-book: Link to open full view
"With her extensive knowledge of the fashion industry and her eye for fashion, Doreen has unique skills and talents. She's professional, personable, well-organized and an absolute pleasure to work with." M.L.
Services
"After rebranding our company, I realized that I needed re-branding. My wardrobe had not been updated in years and didn't reflect the emerging identity of the business. I needed to ramp up my professional image and didn't know where to begin. I had several important public events coming up and realized that I had nothing appropriate to wear. In three hours Doreen helped me to assemble everything I needed for a coordinated, professional wardrobe that fit my body type, taste, personality, work needs and budget. This whole experience has had a very positive impact on my work life." YA
Free Consultation
"Doreen's professional persistence and exemplary follow-up are what make her such an outstanding businesswoman. She is tremendous at making her clients feel comfortable about defining their desired outcome by taking them through the process of a pre-appointment questionnaire, a free 30-minute phone consult, and requesting photos in advance. By the time we reached our first meeting we were well acquainted and I was comfortable, excited and well versed in the process, making the outcome even more remarkable! She was on my team before I even hired her! " KT
Closet Edit
"Spent the best money of the New Year (and I know it's early) on a closet makeover with Doreen Dove. I had a closet full of clothes that I didn't wear because I didn't know how to wear them! Not only did Doreen maximize and organize my closet space; she also used all of my existing clothes, accessories and shoes to put together fifty outfits and created an online Look-book for me! Now I don't have to waste time getting ready to go anywhere. I just break out my look-book. She's awesome!" G.B.
"Is your closet overflowing but you still don't have anything you really want to wear? Doreen to the rescue! She will unearth buried treasures in your closet, help you say goodbye to clothes you haven't worn in years and never will again, and give you shopping suggestions to fill in wardrobe gaps that will help you identify and refine your personal style, all within your budget. In addition to her fashion expertise, Doreen brings a big smile and a positive can-do attitude. It's great therapy. You will actually be excited to decide what to wear the next day." J.D.
Wardrobe Discovery
"Doreen is a power house of knowledge when it comes to making women look good, feel fabulous and raising the bar on self-confidence. Having her in my closet was a benefit beyond my imagination. It was amazing to see my clothing before and after she worked her magic. I was so ready to throw them all out and start over! Now I have so much to wear and I get dressed with ease every morning. I can't thank you enough. You provide such a terrific unique service!" J.L.
"Doreen has managed to control my clothing chaos throughout my entire house!  I travel weekly and the biggest a-ha moment I had was when she set-up a space for my carry-on items. Every time I switched luggage, my items were all over the place and hard to find. I now have them in one drawer, contained and ready to go. Doreen also helped me organize my wardrobe and spruce up my style. I can see what I have and there is a place for everything. She created a look book for me for several different color combinations which makes packing a breeze. I would highly recommend Doreen to anyone who needs help with their clothing, closet and style." A.P.
Shop For You
"Imagine my delight when I arrived home from a grueling workday to find over twenty fabulous clothing items waiting to be tried on in the comfort of my bedroom! I poured a glass of chardonnay and jumped in. My next surprise, everything fit, looked amazing and was within my budget – big time SCORE! " D.R.
Shop With You
"Doreen, thank you so much for all of your hard work while working with me and for me. I had a great time getting to know you and shopping with you. I learned so many tips and tricks about fit, fabric, price points and which stores are best suited to my body and lifestyle." T.F.

"Imagine living where your only shopping options are WalMart – mind you that's not bad for your everyday 'stuff', but when it came to styling my image for my new business launch – that was a problem! I found myself lost, frustrated and clueless where to turn for help. I knew I need a makeover and I also knew there was no one up here in Nova Scotia to turn to. Then I found Doreen Dove online! Problem solved! She made me feel so comfortable from the first phone call and all the way through the whole process! We skyped, chatted on the phone, exchanged photos, measurements and challenges right down to the types of shoes I needed to wear. I looked forward to each session with invigorated energy and improving self-esteem. I have to say the items that she located for me online were spot on, not one return – now that's amazing! I highly recommend Doreen to get you in shape – I have renewed confidence and am flying in my new venture! Outsource your style to Doreen –you'll love the way you look!" K.B.
"Best gift ever! My husband handed me the Gift of Style and at first I was unsure what that even meant! After getting 'over' the hidden message (he claims there wasn't one) I embraced the opportunity to have my own personal stylist to help me makeover my dated image. Not anything that I thought the average woman could engage in – boy was I wrong! Doreen completely 'got' me, what I was struggling with (for years) and helped me to embrace my body the way it is!" S.D.
Referrals
"I have known Doreen Dove for over 30 years, since she managed my family's men's clothing store. Not only did she manage the business successfully but she ran it with the utmost professionalism. She was well liked and respected by both the staff and the customers. She was integral to the store's success. Doreen is a stellar individual with impeccable taste and a spot-on sense of style." – DS
"We engaged Doreen to help our daughter to update her image and shop with her to fill her wardrobing needs. Doreen is incredibly knowledgeable as an image consultant and quite personable and was able to relate with our daughter and help her to fill those needs easily and with fun! We plan to continue working with her in the future." J.W.
About
"Doreen is a dedicated, passionate, and highly knowledgeable professional with great sense of business and marketing. With her experience and energy you can be confident what she is working on will be a success. I highly recommend her!" – KK
The Company
"I have worked with Doreen both as a colleague and client. She is one of the most professional and knowledgeable people I have ever worked with. Doreen helped me with wardrobe and style for many events, and they are some of my favorite pieces in my closet! She is extremely organized and is outstanding at multi-tasking. In creating her programs for her clients, I believe Doreen has brought together her greatest talents and skills and she will empower women to be the best version of them-selves!" – KD
About Doreen
"I felt so much more confident and continue to get a ton of compliments on a daily basis. I think the best thing about the whole experience of the closet edit, new haircut and make up, etc. is that it just "stuck" for me. I am a perfect spokesperson for the value of this experience because this self-care is so far removed from my typical lifestyle. For me to fully embrace new ideas about how I present myself is a huge transformation, both psychologically as well as as physically. Speaking of physically, I've already lost three pounds and feel much more motivated because I feel like I look amazing in the process! Last night, another mom asked me what my secret was for "looking so good," and I glibly replied, "Divorce." But in reality, the secret was you. You helped me to jumpstart a new me! Thank you…thank you…thank you!" – LV
"I have known Doreen for approximately 10 years.  I have always admired her sense of style as well as her organizational skills.  When Doreen told me about her new venture I immediately hired her to come over and do a closet assessment and wardrobe makeover.  Not only did she organize my entire wardrobe, she also put together the most AMAZING outfits with my existing clothing! I absolutely find her services invaluable whether you are a working woman or stay at home mom…everyone should have a Doreen!"  M.G.
Speaking – Corporate
"Doreen Dove is an engaging, insightful and entertaining speaker plus a stellar image and style consultant. Whether one-on-one consulting on personal style to polish the brand of a senior executive or coaching a full corporate audience on proper business attire or the "challenge" of business casual, she is in command and delivers great content, with humor and grace."
Marie Warner  ~  Boston Women Connect
Speaking – Colleges/Universities
"We were lucky enough to have Doreen participate in our 'Life After Wellesley' program. Doreen's session was completely packed as our soon-to-be graduates were eager to understand how to dress for success! Doreen's presentation was incredibly accessible for our students and she was extremely sensitive to price points and different body types. This session was fun, interactive and filled with plenty of time for Q&A. Most importantly, Doreen was approachable and spent a considerable amount of time answering individual questions and offering ideas and resources after her session."
Erin Sullivan ~ Wellesley College