Date: December 4, 2017
Time: 5:30 pm - 7:30 pm
Location: The Arbors of Stoneham, Stoneham MA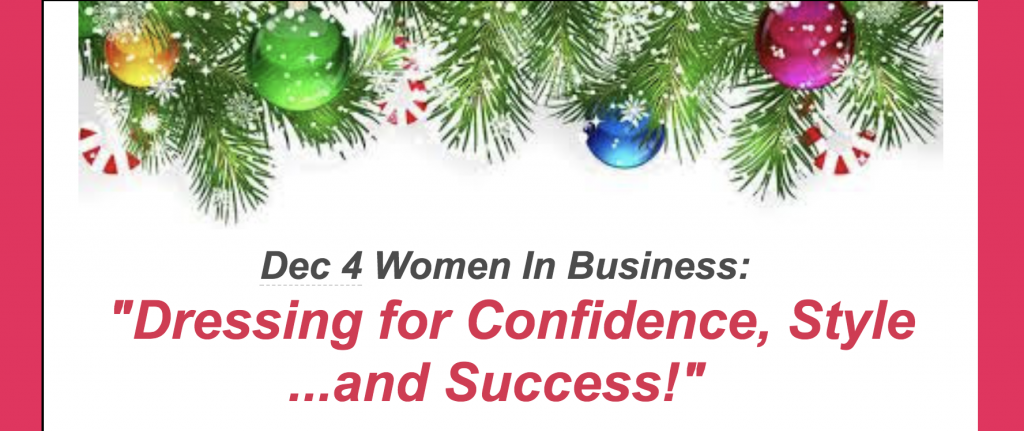 Join chamber members and guests at this fun and festive Women in Business event 
December 4th
. Celebrate the season with delicious appetizers, mingling, good cheer and a dynamic presentation that is a gift for yourself for the holidays!
This is our final 2017 Women-in-Business event to network with members and guests from the Melrose, Reading,
No. Reading, Stoneham, Wakefield Lynnfield, and Wilmington Chambers of Commerce.
$10 Chamber members/$20 guests. Plenty of parking. But HURRY!…Attendance is limited! REGISTER HERE
An award-winning expert in the field of Image Consulting, Doreen Dove coaches women to use style as a tool to take strategic control of their image and fully engage in the possibilities of their future. Join us for her humorous and engaging presentation. After all, how you present yourself can make a powerful statement about who you are
and what you have to offer.
In this session, Doreen will:
Reveal valuable information about what your public image communicates about you
Provide actionable tips to up-level your style
Help you present a more confident and successful you!
Her recently published book, Confidence Is Always In Style, provides in depth expertise to help women identify and express their most authentic image with humor and clever insight and will be available for purchase at the event.