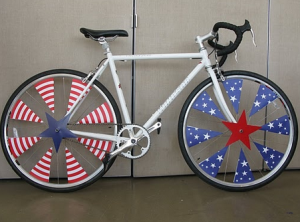 How was your 4th of July? I am writing from New Hampshire today – you know that State – Live Free or Die. In the summer, this is translated as the 4th of July that runs through November – aka – fireworks are legal here. We even have a store called Fireworks R Us!  The proud residents and the vacation imports dressed like flags, fireworks, roman candles, Betsy Ross, you name it.
Who started this practice of theme dressing anyway?
Even the ugly Christmas sweater now has its own website, themed parties and networking groups.
What is this innate desire to be like each other? What ever happened to 'independent' thinking? (Good one Doreen!)
As the calendar progresses, so does this ritual:
Ordinary office workers don pumpkin sox on Halloween.
Thanksgiving trussers' wear anything that looks like it came straight from Sherwood Forest.
New Years Eve revelers could light up Time Square without the dropping ball!
Nurses and schoolteachers seem to have a special affection for Valentines Day, wearing anything with red hearts and passing out kisses.
Let's not assume this is an American affliction – take a look at St Patrick's Day – green everywhere including in your beer mug!
So there went the 4th of July, complete with red, white & blue cakes, jello molds, tablecloths and aprons! Every email that came in this month had something about wearing red, white & blue as if it were a dire warning that you wouldn't be on trend and certainly wouldn't be invited to next years big barbecue if you arrived inappropriately dressed.
Did you grab the star hosiery, the red jellies, the white shorts, the navy tank top and the trio bottle of hair dye? Did you hang the flag on your porch, boat, truck, bicycle or visor?
Reality check…going too crazy with the holiday themes is just a tad tacky. Embracing a color story for holiday-sake, now that could be perfectly acceptable!
Here are some timeless ideas for your red, white and blue summer statement that are probably NOT one-shot wonders! They just might be staples already living in your closet, or staples that should be living in your closet! Remember – this was Independence Day – show your independence by dressing with purpose – the purpose being to look fabulous and feel comfortable and not look like it is a costume!
The White Pant – But Wait – Maybe a Skirt?

This could be shorts, capri's, skinnies, straight, bootcut or even a skirt! And oh wait again – they could be red or navy! The only requirement – they must fit and flatter! No visible panty lines, no cellulite peeking through too tight a fit, no muffin tops and no too-short or see-through skirts.
A white linen or denim shirt or a denim jacket

Just bump up the top half with a loose and crisp white linen shirt or top your tank with a fitted denim shirt or top it all with an edgy denim jacket. Try to not always be the sweater girl!
A Pop of Color Shoe
Red seems the obvious choice, however if Dorothy shoes are not your style then wear a neutral color and pop a red scarf, handbag or hat to finish the look. You don't have to search out flag motifs or star graphics to look explosively festive.
Then there is always taking your style one step further…who said you can't be the best dressed woman in the room?
Having trouble getting dressed with purpose? Here's a summer special!
I am offering a special 50% discount on my printed book, Confidence Is Always In Style. Head on over to www.DoreenDove.com/author and check out using the special discount code BA50 to receive your copy of this sassy style guide.