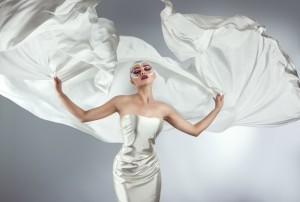 Some women dread the season of white and some women love it. One thing we all have in common – we love the season of hot! Here are a few ways to wear white AND look hot!
I held my first in a series of Signature Private Styling Workshops this week and the subject of color was a solid hour. The question of the hour, "Am I warm or cool?" The comment of the hour, "But I used to be…"
Here's the color news Carol – things change! Yes, you may have been a cool at 20-something but now you are a warm. Why? When we were 20 we were at our brightest with bright eyes and clear skin and our hair was a more intense color.
As we age we are not only losing pigments in our hair (going grey) but we are also losing pigments from our skin and eyes so we need to be softening the high intensity colors around our face otherwise the color wears us instead of us wearing the color. Now that may not necessarily mean you have jumped the fence from cool to warm, but there is the chance that you actually have, or that you have to change your 'tone' from bright to soft.
Getting back to the 'color' of the day, white, you probably already know white is a cool color and as a warm gal you may be wondering where does that leave you? Fear not, you are not left out in the cold!
Whether you are a cool or a warm, white can be worn!
Cool ladies…wear it anywhere – style with reckless abandon! Warm ladies; just keep it away from your face! That means either the bottom half of your body or balance out the white by having the warm tones on your top half or right at your neckline, so it softens the facial skin and hair color and harmonizes with your overall tone.
Here are a few white hot ideas for anyone's bottom half!
When choosing the white bottom, first decide on these options:
Full length or crop
Dressy or casual
Fitted and sassy, or loose and flattering
Whichever you choose – buyer beware of the following faux pas!
Choosing a fabric that is too thin – oh my – what a visual! What do we look at first, the undies, the pocket linings, that tags or the dimples?
When choosing your white shoes – beware of white heels! Always choose a natural heel so that you don't end up with discoloration (grass or dirt stains).
Lastly – try not to wear the two together – white pants AND white shoes are a bit of overkill! Try to do one or the other.
Still have questions about your style? Check out my workshops.
Where's Doreen this week?
Hosting another sold out workshop! Link here to sign up for the next one! Future dates available are June 9th and June 20th!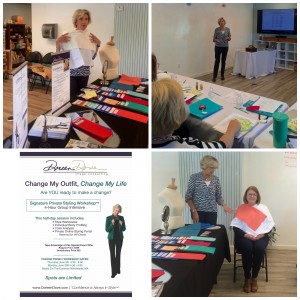 Want to attend a larger gathering? Join me as I speak on the topic of  "Powerful First Impressions" to the American Association For Women In Science. This is an open event held at Harvard and will no doubt sell out. Register here.