Date: December 7, 2016 - December 8, 2016
Time: All Day
Location: Boston Convention and Exhibition Center, Boston MA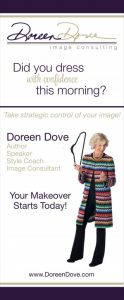 If you are one of the 10,000 fabulous women registered for the 2016 MA Conference For Women, Wednesday evening, December 7th or all day Thursday, December 8th, be sure to stop by booth #875 Doreen Dove Image Consulting for a chance to win an Image Makeover valued at over $500.
Take the time to work on your self-confidence by chatting with me about the possibilities. All client packages are fine tuned for what you personally need.
In need of a closet edit, shopping services, a lesson on how to dress with purpose, a complete makeover, new hairstyle, makeup or LinkedIn photo?
In need of jump-starting your self-confidence to create a brand new and improved you?
In need of a dynamic speaker for your women's group?
Let's take a few minutes one-on-one to chat about the options!
I will be raffling off something stylishly fabulous worth over $500!
Can you spell M-A-K-E-O-V-E-R…
And of course I will be selling my savvy guide to all things stylish –