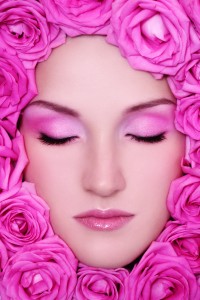 It's official, it's Spring and we have mentally checked out of Winter. Done deal, dead to us. Over worked, over covered, over done. No matter where I go women are saying enough, enough of these drab duds, let me out of my house and out of these clothes.
I popped into an office this week and every desk had an unopened fresh bouquet of pink flowers on it. The VP of The Winchester Hospital Foundation said she simply needed to solicit some springtime cheer as they prepared for their Spring Into Pink Hospital Fundraiser to support their Breast Care Center.
This interaction changed my whole day. The positive action, the thoughtful gesture, the beautiful flowers and even the lovely scent knocked me forward into the season (of course the 50 degrees outside helped a bit too). I left with a spring in my step as I headed to the Mall for a shopping session with a client.
My usual protocol is to hunt and gather for what I call foundations and frosting. The foundations would be the dress pants, no doubt including black, the jeans, no doubt including dark wash, the shapers, no doubt nude and black and the work-horse shoes, something comfortable, stylish and no doubt black.
Then I move to the frosting. Spring rules – no black. Time to pop some color with the sleeveless shells, long sleeve blouses, jackets, accessories and pretty shoes! Inspired by the bouquets of flowers today, we worked the pretty in pink theme. As you dress and as you shop, start thinking about your clothing as foundations and frosting!
Your foundations are in 2 categories – your bottoms and your shoes. Most women choose their outfit based on how their feet want to feel for the day, so those two items go hand in hand (or foot in shoe).
If you start to pull your daily outfit the same way each time – the pant or skirt and then the shoe, you will start to get in a groove.
Don't think 'whole outfit' to start – just throw on a pant, then a shoe. Then go shopping in your closet for the frosting pieces. Your frosting pieces are in 2 categories. The first category is your tops – from the lightest layering pieces to the heaviest pieces. Tanks, blouses, sweaters and then jackets or blazers.
The second category is your accessories – scarves and jewelry. When it comes to your accessories, match chunky jewelry and lofty scarves to heavier knits and substantial shoes. Match dainty jewelry to softer, silkier scarves, tops and strappy shoes.
If you start to pull together your daily outfits in this order Foundation 1,2 – and then Frosting 1,2 – it will start to make sense, get easier and you will get more creative over time.
Winchester Hospital's fundraiser to support their Breast Care Center.
Don't miss this special evening of cocktails, conversation and care connections!
When: Wednesday, April 15, 2015 at 6 p.m.
Where: Winchester Country Club, 468 Mystic St., Winchester
Tickets: $65—includes: one signature cocktail; five raffle tickets for great prizes; lots of delectable appetizers and yummy treats; and a mini spa experience.
Doreen Dove Image Consulting has donated a style makeover worth over $300. We hope to see you there!
Doreen Dove empowers women to use style as a tool to take strategic control of their image. She is an image consultant, personal stylist, professional speaker and author. Her extensive background in all aspects of retail has uniquely qualified her to work with women of all ages and professions, coaching them to personal style success.
Let's keep the conversation going below. Comments are golden!