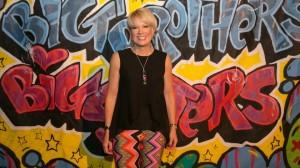 As seen in the Boston Herald – Wendy Foster rocks the night at Big Brothers Big Sisters of Massachusetts Bay Big Night! This was one fun styling challenge! Taking a CEO and transforming her to lead the night with the Goo Goo Dolls and Shaggy!
Based on the backdrop – I think we were spot on! An amazing woman doing amazing work!
"A full-on '90s dance party bounced on at the House of Blues to raise money for the ever-fabulous Big Brothers Big Sisters of Massachusetts Bay. BBBSMB's annual Big Night didn't disappoint with '90s mega-stars Shaggy and Goo Goo Dolls.
Big Night is BBBSMB's largest fundraiser and most rocking upscale cocktail party and concert. For 16 years, Big Night has raised over $26 million, helping to create more than 10,000 one-on-one friendships between young people and adult mentors. This year's goal is to raise $1.6 million, which will help support existing Big/Little relationships and attract new volunteers to be matched with the more than 900 boys on the waiting list for a Big Brother.
Attendees of note included U.S. Rep. Joseph P. Kennedy III, Billy Costa, Lisa Donovan, Jeffrey Leerink, Tim Dibble, Phil Gross, Sandy Edgerley and Lisa Pierpont."
http://www.bostonherald.com/…/…/social_studies_care_to_dance