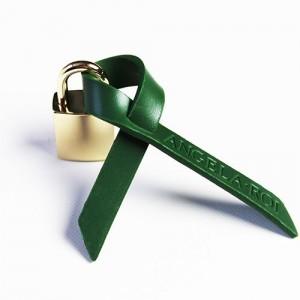 I recently sat on a panel at Boston University through the 85 Broads series and met some amazing entrepreneurial women that I would love to introduce you to! Not only was I inspired by their passion and accomplishments but I was truly impressed and touched by their mantra of 'Do Good – Changing The World One Bag At A Time'. Please read on as Angela Lee provides us some background info on Handbags With A Purpose!
You are going to love these bags!
Have you ever wondered why fashion makes such a strong statement? Or have you ever tried to understand the power fashion has over society? Every piece you wear tells a different part of YOUR story, and with Angela & Roi Handbags, this is no different.  Each A&R Handbag has its own aesthetic bringing timeless beauty to women with classic design, a modern touch, and trendy colors.
Now, that doesn't sound too deep—right? I just described Angela & Roi's style. Let me dig a little deeper. Each A&R Handbag is branded with the A&R Signature Ribbon logo—this symbolized innovation, creativity, and style. Now you must wonder why we choose a ribbon—we found a way to deliver a fashion statement through health causes. A Color Ribbon is attached to every A&R Handbag. Currently we offer handbags in 11 colors, each associated with a distinct health cause. Each of our 11 health causes have an associated Non-Profit Organization Partner. Every time someone purchases a handbag, they are raising awareness for the cause, and Angela & Roi donates a portion of each sale to the associated
Non-Profit Partner.
BLACK Ribbon – Melanoma Awareness
BLUE Ribbon – Colon Cancer Awareness
BROWN Ribbon – Cancer Awareness
GOLD (YELLOW) Ribbon – Childhood Cancer Awareness
GREEN Ribbon – Anxiety & Depression Awareness
GREY Ribbon – Diabetes Awareness
ORANGE Ribbon – Kidney Disease Awareness
PINK Ribbon  -Breast Cancer Awareness
PURPLE Ribbon – Alzheimer's Awareness
RED Ribbon – AIDS Awareness
WHITE Ribbon – Lung Cancer Awareness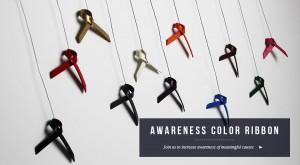 Every time you carry an Angela & Roi Handbag, you are telling a story, you are being impactful, you are bringing life to a cause, and you are bringing hope to cancer and disease fighters while empowering survivors.
What story do you want to tell? Who do you want to honor and be reminded of when you carry your A&R Handbag? Share your story with us; we want to help raise awareness for what is near and dear to your heart!
Each cause is special to someone in its own way. Cancer and Disease has affected millions of people, possibly many that are special to you. All of these special people are worth fighting for, and need your support. Raising awareness is the first step to a healthy world. With the awareness of a cause, there is hope, support, prevention, medicine, and research. There is survival. All we can ask in this world is to be aware of what is going on around you, and see how it affects those around you. Believe in a philosophy that is deep within our hearts, be conscious and raise awareness.
Angela & Roi's Donate by Color mission is here to help support you and your loved ones by bringing hope and support through fashion and philanthropy.